We're all looking for ways to make a dollar go further these days. Many people believe that shopping online and getting the best deal for anything are synonymous. While this may often be the case, it's not necessarily true when it comes to an important purchase like glasses.
Suppose the bottom dollar is your only consideration. In that case, there are a lot of online retailers that will offer rock-bottom pricing. However, that old saying, 'you get what you pay for,' is a significant factor with glasses. Plus, online doesn't automatically mean cheaper, and the other benefits of getting glasses from your optometrist more than even the playing field.
Benefits of Buying Glasses From Your Optometrist
From ensuring you have the correct prescription to providing advice on lens and frame selection, there are several advantages to buying glasses from your optometrist.
Accurate Prescription
After inputting all your information and ordering glasses from an online retailer, you wait for a few days to get your glasses and hope for the best. If the prescription is wrong, then you have to begin the process of returning them and waiting for a new pair again.
When you order the glasses through your optometrist, they can verify the prescription of the lenses before you even take them home. And if there are any issues, you can get them dealt with right there in person.
Significant Quality Difference
You can find every brand and style under the sun if you shop online between various retailers. However, those glasses that cost a fraction of the ones you get from your optometrist will almost always live up to their price.
If you shop online and buy the same brand and lens type that you would get locally, you'll find the price difference is much less—if there's one at all. When someone purchases glasses, it's usually a long-term investment, so you want frames that will actually last.
Ongoing Customer Service
When you purchase glasses online, they typically come with decent warranties and return policies. However, it's not a simple process because it can be a hassle if you want to return or exchange the glasses. You have to send them back via mail, then wait for your replacements—this simply doesn't work if you need glasses for daily activities.
On the other hand, when you purchase glasses from a local optometrist, you can go to their office and deal with them directly. Whatever the case, it's a lot less hassle to do business with someone face to face.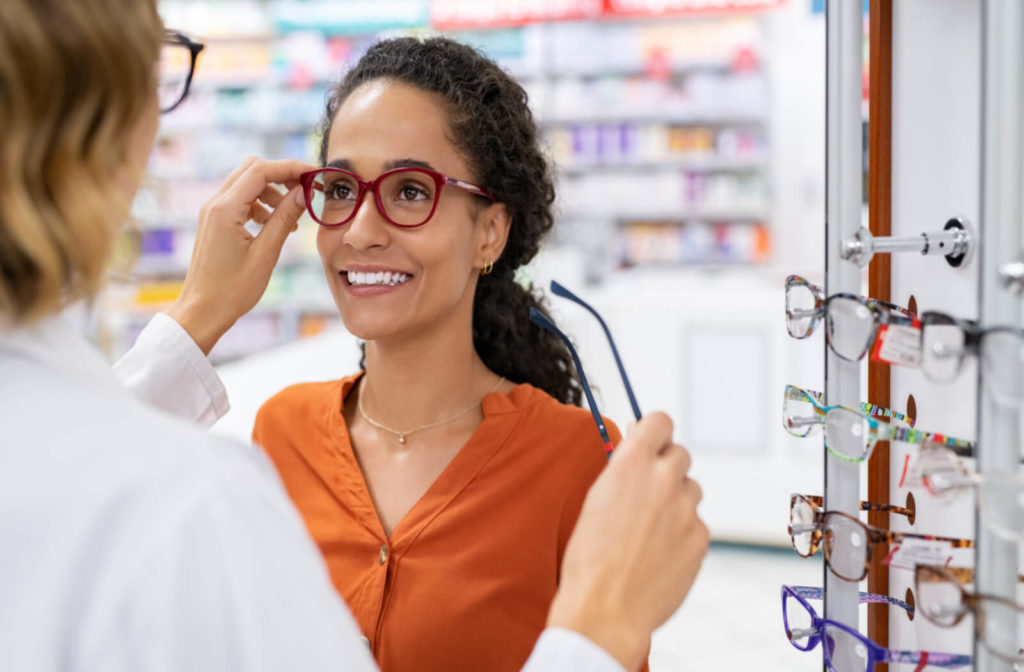 Expert Advice
An optometrist is an expert regarding eyes. A significant advantage of buying your glasses from them is that they can provide you with all the information you need to make an informed decision. With an eye doctor's help, you can be assured you'll get the best frames and lenses for your eyes.
When you shop for glasses online, you pick the frames you like the look of and hope for the best. Then, you'll pick the type of lenses out of a list that gives you a brief description of each. For more information, you'll likely have to do your own research.
In contrast, most optometrist clinics allow you to try frames on and look in the mirror, so you know that the frames fit your face and look how you want them to. Additionally, your optometrist can go through your lens options and lay out the pros and cons of each.
Ease of Warranty or Returns
Most online retailers pride themselves on their excellent customer service. Many offer free shipping and returns. These are all great things, but no matter how excellent the service is, time is always a factor.
Suppose you need glasses to function in your daily activities. In that case, you don't necessarily have time to wait to deal with a lengthy return or warranty process, no matter how good it is.
Trust and Supporting Local Businesses
Online retailers wouldn't stay in business very long with shady business practices. However, there's something about standing face-to-face with someone that can make you feel better about spending your hard-earned money.
In addition, your local optometrist office is often locally owned and operated by people who live and work in your community. So, there is likely some trust already built between you and your eye doctor and their staff.
Get the Perfect New Pair of Glasses
Are your glasses getting worn out? Time to update your prescription? Drop by our office today, and let the helpful staff at The Eye Gallery help you find the perfect pair of glasses. Our professional opticians are experts on frames and lenses. They can give you all the information you need to get the right glasses.
If it's been a while since you've had an eye examination, that's no problem. We're happy to get you in to ensure your prescription is accurate and up-to-date.