Keratoconus can develop subtly and gradually, so it is important to stay on top of your regularly scheduled eye examinations to prevent potential degradation of your vision. In less severe cases, specialty lenses and therapy can be used to mitigate the effects of keratoconus, but if the issue is an advanced case, surgery or a cornea transplant may be necessary.
What is Keratoconus?
Keratoconus is when your cornea (the clear, dome-shaped front surface of your eye) thins and gradually bulges outward into a cone shape. This can cause blurred vision and increased sensitivity to light. Keratoconus usually occurs in both eyes and can affect each of them to different degrees. Keratoconus generally begins to affect people between the ages of 10 and 25.
Preventing Keratoconus
If caught in its early stages, you can potentially treat keratoconus through the use of glasses or soft contact lenses. Later on, if you are still experiencing symptoms of keratoconus, you may have to be fitted with rigid, gas-permeable contact lenses or other types of lenses, such as scleral lenses. If these methods do not help in treating your condition, you may need a cornea transplant.
Symptoms
Some symptoms of Keratoconus are:
Causes
Currently, the cause of Keratoconus is unknown, although genetic and environmental factors could contribute to developing the condition. Around 1 in 10 people with keratoconus also have a parent with the condition.
Complications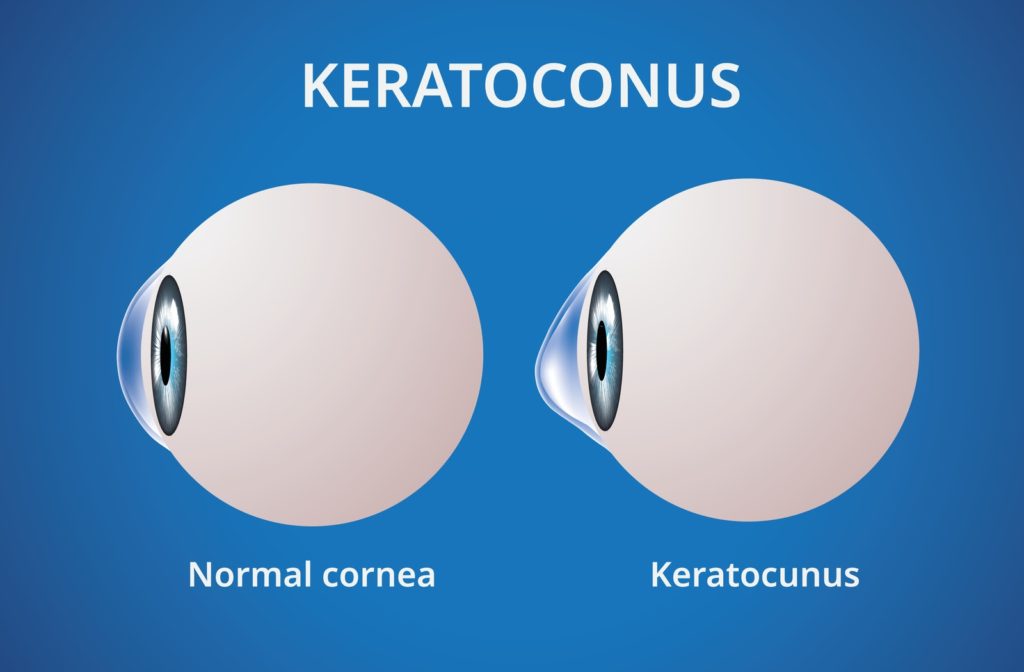 Treatment Options for Keratoconus
Different treatment options are available depending on the severity of your condition. Mild to moderate cases of keratoconus may only require corrective eyeglass or contact lenses, while more advanced cases may necessitate surgery or a cornea transplant.
Lenses
Therapies
Surgeries
Some surgical options to treat keratoconus include: