Sports are some of the best ways to get exercise, spend time with friends, and learn new skills. If you live an active life, it's essential to understand that accidents happen, and you may one day need to visit your optometrist. With proper protection, however, 9 out of 10 sports-related eye injuries are preventable.
The best protection is prevention, so continue reading to learn more about 7 sports you should wear protective eyewear for.
What Sports Should You Wear Protective Eyewear For?
Sports-related eye injuries are common, with over 600,000 occurring each year. In a year-long population study of eye injuries, 12.9% were sports-related. Despite this, protective eyewear is rarely mandatory, and many choose not to wear any.
Accidents can happen in any sport, but some put you at a higher risk of injury. If you or another family member are playing sports, keep your eye health in mind. You should wear eye protection when playing the following sports:
Baseball & Softball
Baseball is known as America's pastime, but it's also a frequent cause of emergency room visits. The sport is the leading cause of eye injury in children 14 years old and younger. Many will wear eye protection when at-bat but not in the field.
A batted baseball is 3.5 times more likely to cause eye damage than a pitched baseball, yet many players do not wear any protection when they aren't batting. Regular sunglasses will block the sunlight, but they won't stop a baseball or protect you from impact and debris.
There are many eye-related injuries baseball and softball can cause. It isn't mandatory to wear protective eyewear, but doing so can protect your vision and lower the risk of several eye injuries, including: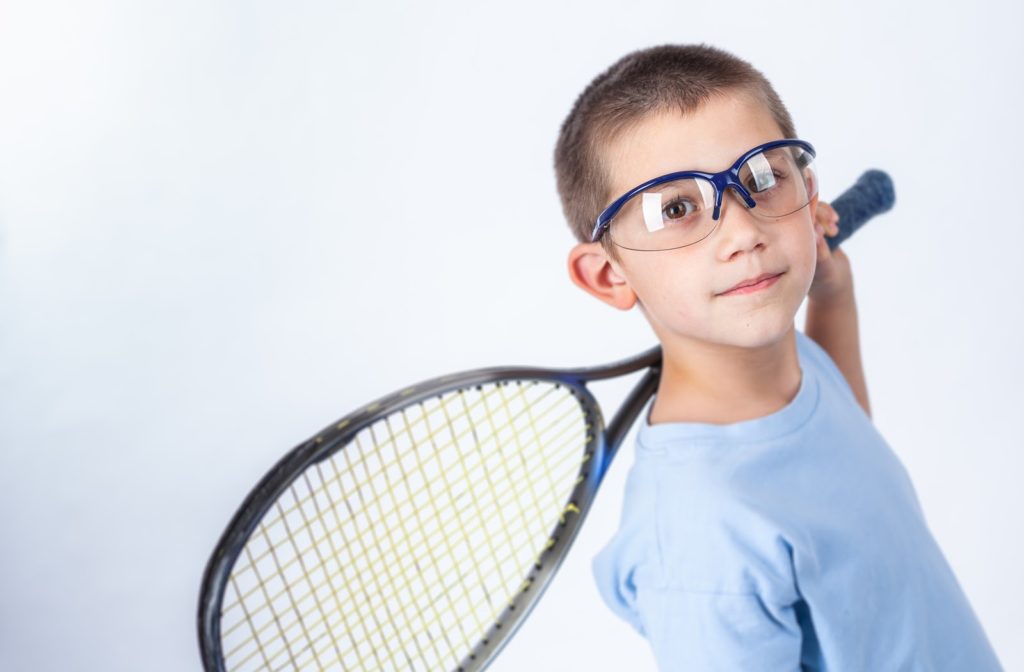 Squash & Racquetball
Playing squash and other racquet sports is an exhilarating and intense experience, but it can be a frequent cause of eye injuries. While these sports are especially high-risk for eye injuries, proper protection can prevent injury.
If you're playing squash or racquetball soon, don't start the game until you have put on a pair of protective goggles.
Basketball
Believe it or not, but basketball is the leading cause of eye injury in America. In physical sports like basketball, players may get poked in the eye, hit in the face, or take a fall. Accidents can happen at any point in the game, but eye protection can prevent serious injuries.
90% of serious eye injuries are preventable by wearing protective eyewear. Common basketball-related eye injuries include:
Ice Hockey
With high speeds, sharp skates, and full contact hits, ice hockey is a physical sport – to say the least. Without protection, there is a high risk of severe eye injuries. Every player wears a helmet, but some still lack a visor.
Your eyes can be injured while playing hockey from:
Flying pucks
High sticking
Fast skating
Fighting
Your risk of an eye injury is 4.23 times higher if you don't wear a visor with your helmet. In 2013, the National Hockey League (NHL) began requiring all new players to wear visors, decreasing eye injuries. It doesn't matter if you're in the NHL or on a lake with friends; wearing a protective visor can save your eyesight.
Paintball
Paintball can be a fun hobby, but high-speed projectiles can cause severe damage. Eye injuries from paintballs, pellets, airsoft, and BB guns have risen by 50% since 1990. The good news is you can wear protective eyewear to prevent damage to your eyes. Common eye injuries from air guns include:
Speak with your optometrist about the most effective ways to protect your vision before the next time you play.
Mountain Biking
Mountain biking can let you fly down trails at top speeds while performing difficult tricks and runs, but there are several hazards to look out for. You may be prepared for your standard tumbles and falls, bug bites, and rough terrain, but this activity can also put your eyes at risk.
Sticks, branches, and other debris can hit your eye and cause significant damage. With any extreme sport, safety should be your top concern. Before you hit the trails, invest in protective equipment for your whole body, including your eyes.
Football
Football poses a moderate risk of eye injury, but this doesn't mean eye protection isn't necessary. Like all physical sports, you can take hard hits and falls, and there's the risk of injuring your eyes. You don't need protective goggles, but a visor or faceguard added to your helmet can make a difference for your safety.
Protect Your Vision
No matter the sport you play, safety should be your top priority. The American Optometric Association recommends protective eyewear for anyone playing a sport with a risk of eye injury. Even if eyewear isn't mandatory, you should make sure to protect your vision.
If you're interested in investing in safety eyewear, book an appointment with your optometrist. They can find the best solution for your unique needs.