Glasses have come a long way since they were first invented in thirteenth-century Italy — and thank goodness for that. Today, wearing glasses isn't just functional; it's also a fashion statement! And while we love to play dress-up, we can't imagine walking around town in a style that's over seven hundred years old.
Fortunately, the bespectacled people of the twenty-first century have a lot more options. Modern glasses come in endless shapes and sizes — and can be personalized to suit an incredible variety of optical needs. Use the information below to discover how you can pick out the perfect new pair of glasses next time you need them.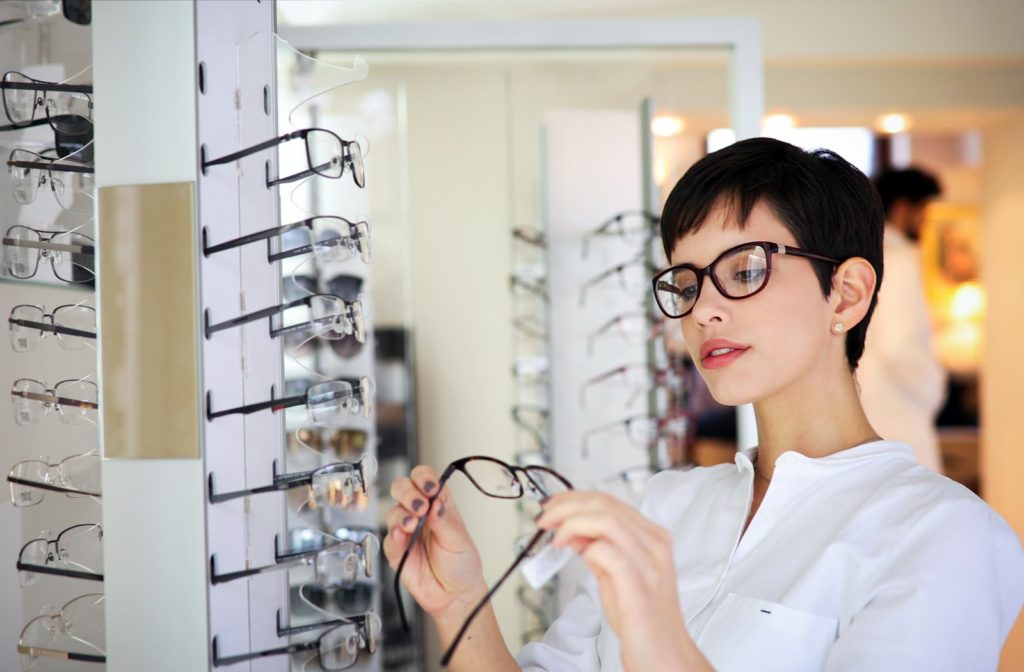 Why Do You Need Glasses?
People may wear glasses for many reasons. Before you buy any new pair of glasses, make sure you understand their intended purpose and be sure they'll serve you properly.
Reading Glasses
These are one of the most common varieties of glasses in the world. As the name implies, they are predominantly used to help people focus on small objects from a short distance away — like letters on a nearby page.
The lenses in our eyes become less flexible as we age, which sometimes affects their ability to focus on things up-close severely. Reading glasses contain separate magnifying lenses to help compensate for this condition, which is known as presbyopia. As a result, many people need reading glasses when they become older, even if they had perfect eyesight in their youth.
Reading glasses with prescription lenses are tailored to provide the precise amount of magnification the wearer needs. Trained specialists such as optometrists can identify each patient's needs and prescribe appropriate lenses for them.
Ready-Made Readers
It's easy to purchase over-the-counter reading glasses online or in many retail stores since they are always in high demand. However, not all reading glasses offer the same magnification level — and choosing the wrong ones can make presbyopia worse.
Cheap reading glasses may also provide a false sense of security for the people who wear them, giving them the impression that they no longer need eye exams. However, reading glasses do not correct other vision disorders such as glaucoma, and no ready-made product can ever replace personalized advice from a trained medical professional. Bottom line: it's always better to let an eye doctor recommend reading glasses rather than buying a "bargain" pair on the internet.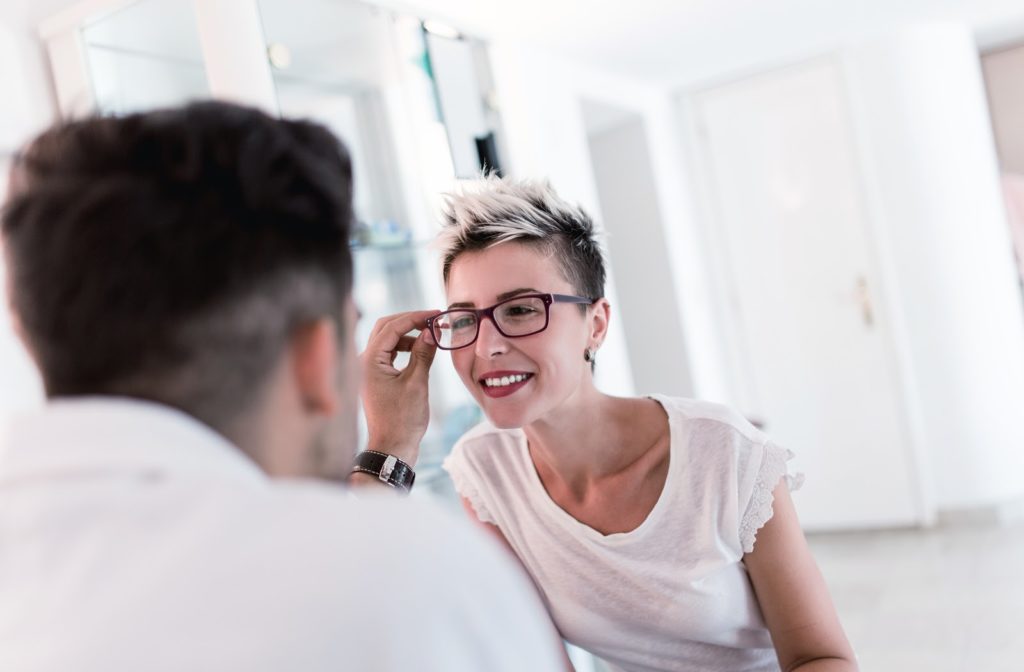 Other Prescription Lenses
Not all glasses with prescription lenses exist to counter presbyopia. Some varieties also fix myopia (near-sightedness), hyperopia (far-sightedness), and astigmatism (where the eye's lens develops an abnormal curve).
These conditions may be challenging to correct with over-the-counter lenses, so we don't recommend trying. A trained specialist who has gathered information about your specific needs will help you find glasses designed to meet them.
Sunglasses
Everyone loves a stylish pair of shades, but sunglasses are also essential for eye protection. They prevent the sun's harmful UV radiation from entering your eyes when you're in direct sunlight. UV rays can damage the cells in and around your eyes, which causes them to divide abnormally and may lead to the following conditions:
Cataracts
Photokeratitis (inflammation of the cornea)
Photoconjunctivitis (inflammation of the membrane inside the eye socket or eyelid)
Pterygium (a pink-colored growth near the cornea that can spread across the pupil)
Skin cancer in the tissue surrounding the eyes
Since everyone needs to protect their eyes from UV rays, many sunglasses have non-prescription lenses. However, people who wear glasses for other reasons should select sunglasses the same way — by consulting an optometrist who can suggest a pair that will work for them.
Specialty Glasses
Specific types of glasses exist for many other purposes. These include (but are not limited to):
Computer glasses, which block blue light from electronic devices to reduce eye strain
Sports glasses with polarized lenses that reduce glare during dynamic activities
Safety glasses for welding or working in other potentially hazardous environments
As with the glasses mentioned previously, it's typically best to purchase specialty glasses on your optometrist's recommendation. That way, you'll know whether or not you need prescription lenses before you go out and buy a pair that doesn't have them.
Choosing the Right Style
An optometrist can suggest glasses to correct specific vision issues, but finding the right look is still a personal choice. That said, many optometry practices carry a broader range of styles than your average retail store to make things convenient for their patients. Buying glasses from a specialist also makes it easier to have them adjusted before you leave, allowing you to wear them out and dazzle everyone with your new frames!
Here are some factors you'll want to consider when picking out glasses that flatter your face:
Face Shape
There are five basic types of face shape:
Square
Round
Heart-shaped
Triangular
Oval
It's best to pick out glasses that balance out your face's most distinct qualities. For example, people with square faces often choose glasses with rounded frames to soften their sharp angles, whereas round-faced people might use rectangular frames to define their features. Another reliable rule of thumb is to choose frames that are slightly wider than the broadest part of your face — the forehead for heart-shaped faces, and the jaw for triangular ones.
Color
Try to select colors for your glasses that either complement your skin tone or contrast with it. Jewel tones such as blue and green go well with lighter, pinkish skin, whereas bold frames in colors like red and black look impressive on darker skin. You can also try matching your frame color with your eyes and hair (or choose opposite colors to attract attention)!
The More You Know, the Better You'll See
Human eyes are incredibly complicated, so it's best to learn as much as possible about yours before investing in new eyewear. Arranging for eye exams and following your optometrist's advice will help you select new glasses that look sharp, feel comfortable, and help your eyes perform at their very best.