Your eyes and body share a unique relationship.
If you didn't know already, several health conditions could lead to various eye concerns. Sjögren's syndrome and lupus can increase the risk of developing dry eye, multiple sclerosis can increase the number of floaters you notice in your vision, and your cornea may develop a blue or yellow if you have high cholesterol.
However, one of the most common vision-affecting health concerns in the country is diabetes. Diabetes increases the risk of several eye diseases and conditions, some of which can lead to permanent vision loss if you don't have the proper help to manage them.
On top of this, many diabetes-related eye diseases can develop for years without noticeable symptoms. By the time you notice something wrong with your sight, the issue may be permanent. To help ensure you get the help you need, we recommend every person with diabetes have a comprehensive diabetic eye exam every year.
Today, we will look at how diabetes affects your eye health, the issues we can help uncover, and the tools we can use to help manage your sight.
Diabetes & Your Eyes
What Is Diabetes?
First and foremost, diabetes is a systemic disease that affects how your body processes sugar, or glucose, in your bloodstream. A key hormone to this process is insulin, which helps sugar enter your blood cells and give you energy.
However, depending on which type of diabetes you have, you may have difficulty managing your blood sugar levels:
Type 1 diabetes affects how much insulin your pancreas produces. Without insulin, sugar can't enter your blood cells, causing the sugar to build up in your bloodstream.
Type 2 diabetes changes the way your blood cells respond to insulin in your bloodstream, increasing how much sugar you have in your blood.
There is no cure for type 1 and type 2 diabetes, but managing your insulin levels, eating healthy, and being active could help prevent various symptoms.
How Diabetes Affects Your Eyes
Now that we understand the basics of diabetes, let's look at how it can affect your eye health.
Whether you have type 1 or type 2 diabetes, you may develop higher sugar levels in your bloodstream. This sugar can then affect various parts of your body, specifically the blood vessels in your retina.
If high blood sugar affects your retina's blood vessels, you may have a higher risk of developing various eye diseases, and you may experience symptoms like:
Blurry vision
Difficulty focusing
Color vision changes
Partial vision loss
If you experience these symptoms, please get in touch with us to book an eye exam. These symptoms could indicate a growing eye health problem that our team needs to address.
Common Diabetic Eye Diseases & Conditions
We've mentioned a few times that diabetes can increase the risk of several different eye problems, but what are they?
On top of the symptoms you might experience, you may also develop diabetic retinopathy, diabetic macular edema, open-angle glaucoma, and cataracts. These concerns often develop slowly and could cause permanent vision loss, with the exception of cataracts.
If you have diabetes, we look for these issues during every eye exam.
Diabetic Retinopathy
Diabetic retinopathy is one of the most common eye diseases people with diabetes can develop.
There are 2 different versions of this disease:
Non-proliferative diabetic retinopathy is the most common and it develops when built-up sugars cause your retina's blood vessels to bulge. Over time, these bulges can leak fluid into your retina, and may increase your risk of developing diabetic macular edema.
Proliferative diabetic retinopathy occurs when your retina's blood vessels leak fluids, but your retina tries to compensate for the fluid loss by creating new, but abnormal, blood vessels. Unfortunately, these new vessels can break easily, causing them to leak fluid and create scar tissue on your retina. If you develop scar tissue on your retina, you may have a higher risk of experiencing retinal detachment.
Diabetic Macular Edema
Diabetic macular edema is an eye disease that can develop as a result of diabetic retinopathy and occurs when fluids leaking from your retina's damaged blood vessels start to pool underneath your macula, causing it to swell.
Your macula is the center-most part of your retina, responsible for providing the central vision you use to read, recognize faces, and see fine details. As the macula swells, you may notice distortions in your central vision, but eventually, you could experience vision loss.
Open-Angle Glaucoma
Open-angle glaucoma is the most common version of glaucoma, a group of eye diseases that affect your optic nerve.
Diabetes can double your risk of developing open-angle glaucoma, but we can detect this disease by either measuring your eye's intraocular pressure or by observing your optic nerve during an eye exam.
Cataracts
When your retina's blood vessels leak fluids into your eye, your eyes may develop higher sugar levels, increasing your risk of developing cataracts earlier in life.
Cataracts are some of the most common eye conditions people can develop as they get older, and they could lead to blindness if they're not treated. However, cataract surgery is a common procedure that can remove cataract lenses and replace them with artificial lenses called IOLs to help restore your vision.
How We Detect These Concerns
Even if you aren't diagnosed with diabetes, we can detect its signs during an eye exam. We use several techniques and strategies to get a comprehensive view of your eye health. Still, we also use a selection of modern technologies to look at the internal structures of your eyes that support your vision.
These technologies include:
Optical Coherence Tomography
Optical coherence tomography, or OCT, scans give us detailed, cross-sectional images of your retina. Think of this device as an ultrasound for your eyes, but instead of using sound, the OCT device uses light to help us look at the numerous layers of your retina.
Using an OCT, we can detect diabetic retinopathy, diabetic macular edema, and glaucoma.
Fundus Photography
Fundus photography is a digital imaging technique that captures detailed, colorized images of your fundus, the area of your eye that includes your retina, macula, optic nerve, and your retina's blood vessels.
Like the OCT, it can help us detect diabetic retinopathy, diabetic macular edema, and glaucoma.
Preserving Your Eye Health if You Have Diabetes
Managing your diabetes is essential to preserving your eye health, but you should always talk to your family physician for advice specific to your needs. However, there are some common tips we can recommend, like:
Managing Your Diabetes ABCs
Your diabetes ABCs include your:
A1C, or blood sugar, levels
Blood pressure
Cholesterol
Following a Healthy Lifestyle
If you have diabetes, your physician may recommend:
Diet changes
Exercising more
Quitting cigarettes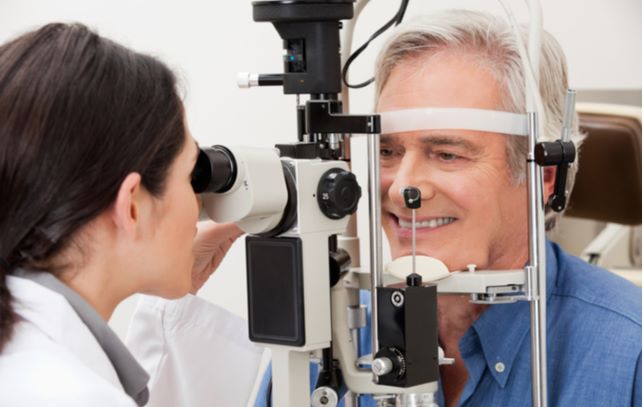 Having Regular Eye Exams
Regular eye exams are essential for detecting various eye diseases and conditions, including those related to diabetes. If you have diabetes or risk developing it, please make sure you visit our team regularly.
If you haven't had an eye exam in a while, contact us to book your next appointment today!