Have you ever put in your contact lenses and noticed they didn't feel quite right? There's a chance they're on inside out. While this isn't a problem with rigid lenses, soft contacts are thin and flexible and can easily flip around. This is especially true if you're new to wearing them.
Fortunately, wearing contact lenses inside out doesn't generally damage your eyes, though you'll likely experience some discomfort. A contact lens exam fits your lenses to your unique eyes. This means if they're inside out, they won't have the correct curvature and simply won't fit as well.
How to Tell if Your Contact Lenses Are Inside Out
Here are some signs you might notice if your contact lenses are inside out:
Discomfort
A gritty feeling
Watery eyes
The feeling that your contact lenses are moving around
Your contacts pop out more easily
Because it's so easy for soft lenses to turn inside out, it can be hard to recognize them as the source of your discomfort. This is especially true if you're one of the millions of Americans with dry eyes.
Most people who put their contact lenses on inside out notice immediate discomfort, but it's possible you might not notice for hours.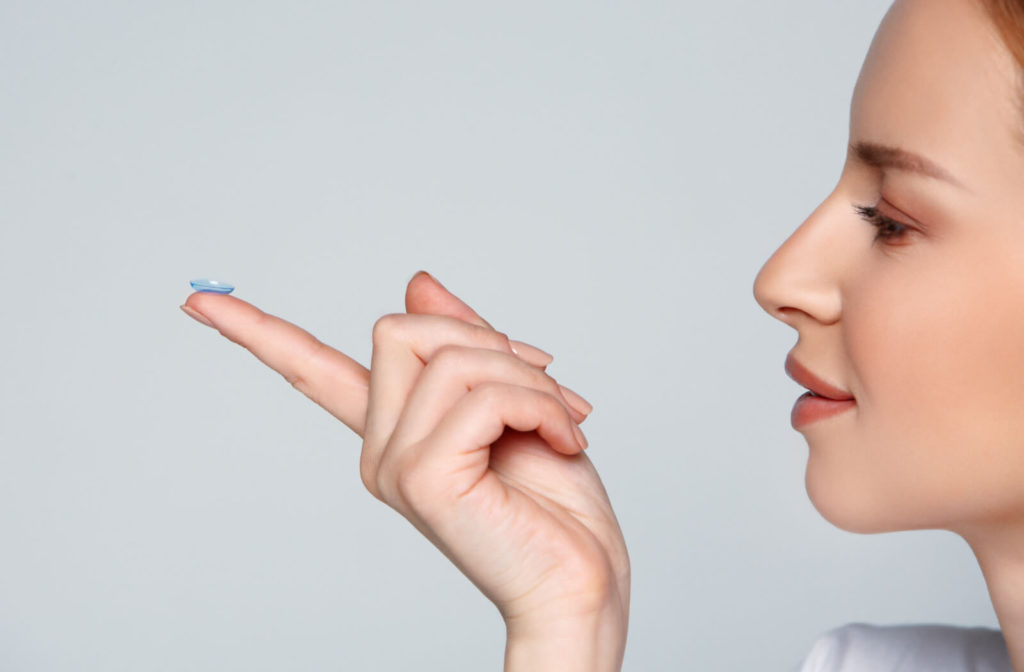 Testing Your Contact Lenses
If you believe your eye discomfort is coming from improperly worn contact lenses, you can run a few tests to see if they're inside out.
The Side View Test
This might be the simplest method for determining if your contact lenses are inside out, but it does take an eye for precise detail.
Simply place your contact lens on your finger with the open edge pointing up. Imagine you're trying to perch a bowl on your finger. Next, hold the lens up to your eye and look at it from the side.
A proper lens should be a perfect cup. The edge will curve up and point to the sky. If your contact lens is inside out, you'll notice a slight curve at the edge that creates a shape that is not unlike a rimmed bowl.
Sometimes it can be hard to tell the difference between the shapes, especially if you've been wearing the contact lens inside out for some time. But, as you become more experienced with contact lenses, you'll recognize what a proper contact lens should look like, and this test will become easier.
The Taco Test
Unfortunately, you won't find any food here. Instead, this method involves placing the contact lens between the tips of your index finger and thumb. Make sure you grip near the center, so the edge has space to show its shape.
Gently squeeze the lens, and it'll begin to fold in half. The edge of the lens should point upwards, looking like a taco, as the name of this method implies. However, an inside-out contact lens will bend outwards toward your thumb and index finger.
Checking the Edge Tint
This method only works on certain brands of contact lenses. Figuring out if contact lenses are inside out can be tricky, so some manufacturers help by giving you a sign. One such way is by tinting the inside edge of the contacts.
To begin this method, place the contact lens on your finger like you would in the side view test. This time, look at it directly from above. Depending on the brand, you may see a blue or green ring around the edge.
Your lens is fine if this ring is vibrant and clear in color. But if it's pale, then the lens is likely inside out. Try this on a lens you already know is the correct orientation, such as one just out of the package, to ensure you know what color you're looking for.
The Marking Test
Some contact manufacturers take a different approach to help you solve this problem. Instead of colored edges, they have laser markings. This marking might differ depending on the brand, such as a "123" along the edge of the lens.
Once again, place your contact lens on your finger as you did in the side view test. Hold the lens up to a bright light and scan the outside surface for the marks. Each manufacturer puts it in a different place, so you may need to look it over a few times.
Once you find the numbers, make sure they're in the correct order. For example, "123" indicates that your contact is oriented correctly, while backward numbers indicate that your contact is inside out.
Taking Care of Your Contact Lenses
Whatever test you use to determine if your contact lenses are inside out, ensure you properly clean the contact before replacing it. Make sure your hands are clean before ever touching your eye, rinse your contact lens with multipurpose contact lens solution, and replace the lens once you're sure it's not inside out anymore.
Finding the Right Contact Lenses for You
Millions of people have chosen to wear contact lenses, but they can take time to get used to. Putting your contact lens on inside out is a common problem, but an easily solved one.
Your contact lenses should be comfortable and if for any reason they're not, contact us at The Eye Gallery. We offer contact lens exams and fittings that can ensure you get the perfect lenses for you—as long as they're not inside out.