Your eyes are one of your most defining features. And while your eyelashes play a crucial role in helping your eyes leave a lasting impression, there's no denying that many of us struggle with achieving the full, thick, dark lashes we want.
Mascara and eyelash extensions can help, but these may only be temporary solutions—mascara can wash off very quickly, and you may need to replace even the highest quality eyelash extensions after a few months.
So, where do you turn if you're looking for a longer-lasting way to enhance your eyelashes?
One answer may be LATISSEⓇ.
LATISSEⓇ is an FDA-approved, clinically tested medication specifically designed to support the growth of thicker, longer, and darker eyelashes, and our team at The Eye Gallery is proud to offer it alongside our extensive range of comprehensive eye care services.
But is LATISSEⓇ suitable for everyone? Let's take a look at this revolutionary treatment and uncover what makes LATISSEⓇ a fantastic option for improving the look of your eyelashes!
If you're interested in LATISSEⓇ, please don't hesitate to book an appointment. We'll be more than happy to determine your candidacy, walk you through your treatment plan, and help you achieve the fuller, darker lashes you've always wanted.
What Is LATISSEⓇ?
LATISSEⓇ is a prescription eyelash medication designed to help thicken and darken your eyelashes, but we can find its roots in the treatment of another common eye problem: glaucoma.
Allergan, the parent company of LATISSEⓇ, created a drug in 2001 to help manage high intraocular pressure for glaucoma patients. However, some patients started reporting that their eyelashes became longer, darker, and thicker over time. Allergan began studying this phenomenon and soon found that a key ingredient for their drug, called bimatoprost, was responsible for supporting eyelash growth.
With further studies and a clinical trial, the FDA approved the new drug, now called LATISSEⓇ, for cosmetic use in 2008.
LATISSEⓇ works by increasing your eyelashes' growth phase while simultaneously encouraging more eyelashes to grow. Over time, your lashes look fuller and longer without the need for mascara or eyelash extensions.
Using LATISSEⓇ
If you're a candidate for LATISSEⓇ, our doctors will walk you through the application process and provide clear instructions on using the medication at home.
LATISSEⓇ is a topical medication applied to the edge of your eyelids where your eyelashes meet your skin. To apply the medication, you'll use one of the sterile applicator brushes that come with your LATISSEⓇ kit.
We want you to achieve the best results possible, so please follow your doctor's instructions closely. Some of their instructions will include:
Washing your hands.
Cleaning your eyelids and face before applying LATISSEⓇ.
Removing your contact lenses before applying LATISSEⓇ.
Only using your recommended dose of LATISSEⓇ every single night.
Using new applicators each time you apply LATISSEⓇ.
Not using the same applicator brush for each eye.
Please do not apply more LATISSEⓇ to "catch up" on your treatment if you miss a night. Only use what your doctor recommends.
Pros of LATISSEⓇ
Longer, Fuller, Darker Eyelashes
The most obvious benefit of using LATISSEⓇ is fuller, darker, and longer eyelashes.
If you struggle with conditions that affect hair growth or have an eye problem that thins your eyelashes, you may be eligible for LATISSEⓇ. These issues can include:
Alopecia
Localized skin cancer
Hypotrichosis
Results Last for As Long As You Use LATISSEⓇ
You heard that right—you get to enjoy the new look of your lashes for as long as you keep up with your LATISSEⓇ routine.
If you miss a day, there's no need to worry. Just remember to stick with your routine and your lashes will keep looking fabulous.
LATISSEⓇ Can Save You Time & Money
Professional eyelash extension appointments can cost anywhere between $160 to $300, but they'll only last for about a month or until your eyelashes shed naturally. Mascara tubes may last longer, but you'll need to apply new mascara every day to enjoy fuller-looking lashes.
LATISSEⓇ prescriptions can last multiple months, and all you have to do is keep up with your application routine as per your prescription. In some cases, we can even provide prescriptions that last multiple months.
On top of this, you can still use your favorite mascara and eyeliner alongside LATISSEⓇ to enhance the look of your lashes even further! Just remember to wait at least 15 minutes after applying the medication before you put on makeup or reinsert your contacts.
Cons of LATISSE
It May Not Be Right for You
Like any medication, there's a possibility that it might not be the right treatment for you. While most people are candidates for LATISSEⓇ, we may not prescribe the medication if:
You are pregnant
You struggle with conjunctivitis
You have a risk of developing macular edema
You have a skin condition on your eyelids
You experience frequent allergic reactions
Please let us know if you have an eye disease or risk developing one. If you're already using medications to help manage glaucoma, let our team know when you come in for your LATISSEⓇ appointment.
4% of People May Experience Side Effects
Though the risk of experiencing side effects is small, it's important to understand what they are and to get help if you experience them.
Some of the most common side effects may include:
Redness, itchiness, and irritation
Darkening eyelids
Dry eye symptoms
Eyelid swelling
To help ensure LATISSEⓇ provides the results you want, we'll have you come in for regular follow-up appointments. If you notice any of these symptoms while using LATISSEⓇ, please get in touch with our team and we'll get to work on addressing the issue.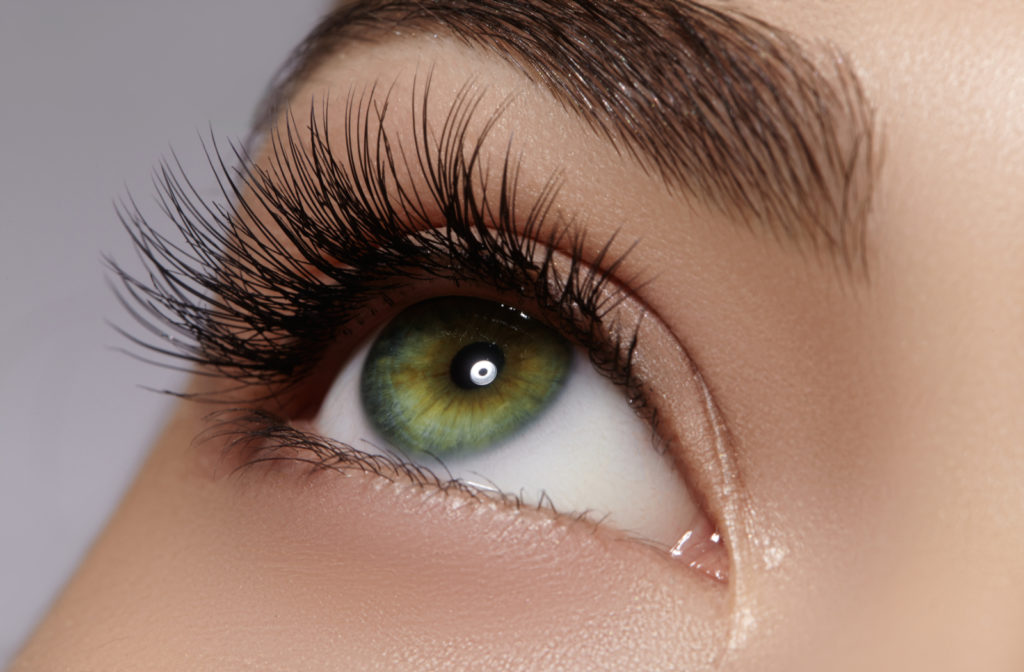 It Can Take Up to 4 Months to See Results
4 months may seem like a lot of time to achieve fuller-looking eyelashes, but the results are absolutely worth the wait!
All you have to do is keep up with your LATISSEⓇ routine every night. If you stop using LATISSEⓇ after the first sign of results, you may lose all your progress and have to wait even longer for your eyelashes to grow in.
If you're concerned if LATISSEⓇ isn't working as well as you hoped, we'll be more than happy to bring you in for an appointment so we can look at your progress and determine if we need to adjust your treatment.
Get started on your LATISSEⓇ treatment today and book your appointment!