Adults, seniors, and children alike all need comprehensive eye exams and high-quality vision care. However, choosing a family optometrist can be a big decision, and not everyone knows what to look for when evaluating potential candidates. How can you make sure you select an eye doctor who will deliver the care and communication your family needs?
At The Eye Gallery, we're just as committed to helping prospective patients as we are to serving our existing ones. That's why we've put together this free guide on what you need to know when considering different optometrists for you and your loved ones.
What Qualifies Someone to Practice Optometry?
Not every eye care professional is an optometrist. Practicing optometry requires specific education and training, ensuring that your eye doctor can properly diagnose various conditions and write you the correct prescriptions.
Optometrists must go through at least 3 stages before they can practice professionally:
Earning their bachelor's degree: aspiring optometrists do not necessarily need to earn their bachelor's degree in biology or a pre-med field. However, the more relevant their undergraduate education is to optometry, the easier it can be to earn acceptance in a competitive doctoral program.
Passing the Optometry Admission Test (or OAT): this computerized exam assesses quantitative reasoning, reading comprehension, and scientific knowledge — particularly regarding physics. Anyone wishing to become an optometrist must pass the OAT and submit their results along with their applications for doctoral programs.
Earning their Doctor of Optometry (OD) degree: Doctor of Optometry programs typically last 4 years. They provide candidates with specific medical and scientific knowledge and teach them how to treat a wide variety of eye-related conditions.
Many optometrists also choose to complete an optional one-year residency at a professional practice, which gives them additional training and professional experience in a clinical setting. Residencies also provide mentorship opportunities by having young optometrists learn from experienced professionals, helping them master the job's customer-facing aspects more quickly.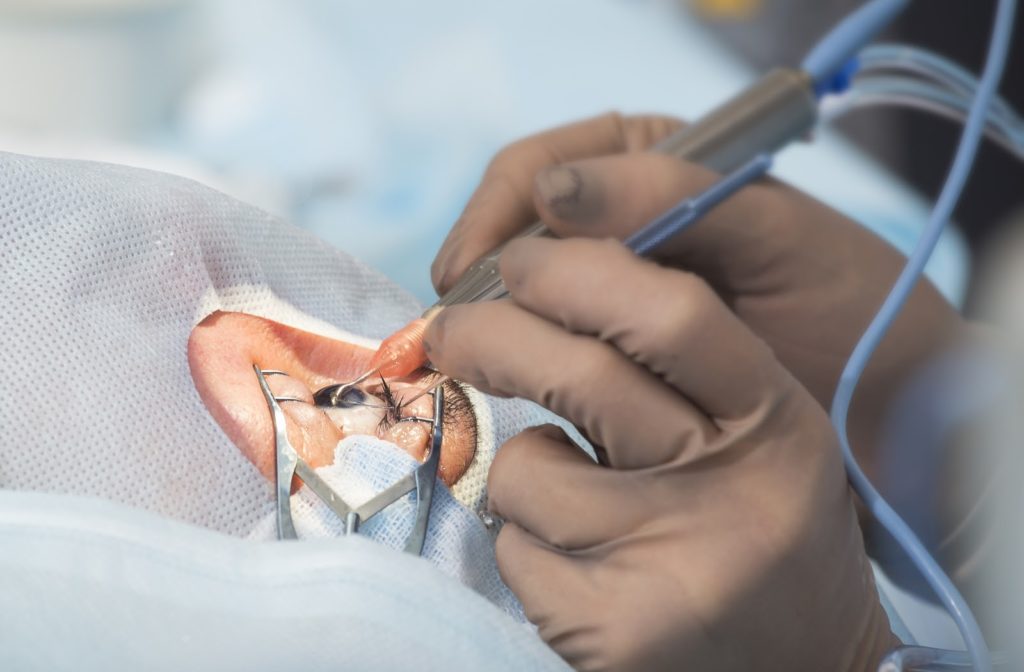 What Else Do Skilled Family Optometrists Need?
Holding an OD isn't the only thing an optometrist needs to provide excellent family care. They also need to be effective communicators with the flexibility and willingness to make patient satisfaction a priority.
Additionally, your family optometrist should have the equipment and experience necessary to offer a broad range of high-quality services. Each individual in your family is likely to have different ocular needs, so it's vital to choose a versatile optometrist capable of meeting them.
It's not always possible to predict what kind of care you'll need in the future. However, you can get a general idea from reviewing your family history and looking for hereditary conditions. Over 350 hereditary eye diseases exist, but some of the most severe include:
Glaucoma: a disease that occurs when the pressure in your eye's optic nerve is too high. It can appear at any time in a person's life, although it is most common in people older than 60. Glaucoma is a leading cause of blindness in older individuals and is best managed early to prevent severe vision loss. Laser surgery can treat some open-angle glaucoma cases (so if you are at risk for this disease, it's best to choose a practice with the equipment to perform a trabeculoplasty).
Retinoblastoma: a type of cancer that first appears in the retina at the back of your eye. Retinoblastoma is more common in children but can still occur in fully-grown adults. It must be treated before it has a chance to spread.
Macular degeneration: the eye's macula is responsible for clear central vision. When it deteriorates, you may have trouble recognizing faces or performing tasks that require you to focus ahead of yourself — such as driving. Macular degeneration is most common in seniors, but it can present earlier in people with a family history of the condition.
Congenital cataracts: cataracts occur when the lens on your eye thickens and becomes cloudy, eventually obscuring your vision. Congenital cataracts (those present from birth) are typically an inherited problem and must be corrected by surgery so that the affected child can grow up seeing clearly.
Leber congenital amaurosis: this disorder results from gene mutations that affect your retina. It causes severe and wide-ranging symptoms, including photophobia (light sensitivity) and extreme hyperopia (farsightedness). Gene therapy medication is the only way to manage this rare condition. Your physician must be able to evaluate your retinal cells' suitability before they can prescribe the medication to you.
Some hereditary conditions can still show up in people with no known family history, although they will be less likely to do so. As such, it is always advisable to choose a family optometrist who invests in modern equipment and is prepared to handle a diverse spectrum of potential ocular issues.
Other Considerations
In addition to their training and equipment, family optometrists need to have:
Excellent customer service: going for an eye exam can be stressful for some people — especially children — so it's vital to choose a family optometrist with a friendly attitude and a focus on patient satisfaction.
Strong communication skills: optometry practices need to be organized so that patients can have confidence in their eye doctors and appointments can proceed smoothly.
Safe, clean facilities: since bacteria are responsible for so many eye infections and allergies, optometry practices must be clean and well cared for at all times.
Easy payment options: paying out of pocket for prescription lenses or a complicated procedure can be expensive, so it's best to choose a family optometrist who offers direct billing to many different insurers and accepts various payment methods.
How to Find Your Next Family Optometrist
Here are a few easy strategies you can use to determine whether the optometrist you're considering will be right for your family:
Check out their reviews online: if enough patients have had standout experiences (good or bad) with an optometrist, it should be easy to find reviews. Try filtering the reviews by searching for keywords that are relevant to the services you need (i.e., "dry eye therapy") or the priorities that you have (i.e., "customer service").
Call the practice with your questions: if the practice you're considering has first-rate customer service, they won't mind answering a few questions over the phone. Cold-calling optometrists you're interested in is an excellent way to assess their communication style and the way they treat patients.
Ask to visit the practice: it's always best to see a practice for yourself before deciding to trust them with your family's eye care needs. Ensure that the facilities are clean, the staff is friendly, and the other patients in the waiting room seem satisfied with their experience.
Give Your Family the Eye Care They Deserve
Protecting your family's vision and ocular health is a key part of ensuring their long-term quality of life. Use what you've learned here to select a family optometrist who can provide the experience, equipment, and soft skills that your family needs to see clearly for years to come.