There are a lot of questions when it comes to your regular eye exams. For example, you may wonder what happens during an eye exam, why they are essential, or how you will pay for it.
In regards to paying for your eyecare appointment, there are several payment options available to you. Medicare and Medicaid are two financial assistance programs that you can choose. These two programs often get confused for one another, but they are designed for different groups of people.
Each program has its own policies and covers different services and healthcare costs, from eye disease diagnosis and management to emergency eye care.
So how do you know which program is best for you and the eyecare services you need? To select the right program, it's essential to understand the differences between Medicare and Medicaid and the services they cover.
What is Medicare?
Medicare is a federal government health insurance program available in the U.S. that subsidizes many different healthcare services.
Medicare is divided into four parts:
Hospitalization Coverage
Medical Insurance
Medicare Advantage Plans
Prescription Drug Coverage
Patients are responsible for paying deductibles and small monthly premiums, depending on the services you require.
Am I Eligible?
You may be eligible for Medicare if you:
Are 65 years or older
Are younger than 65 but have specific disabilities
Are an individual with certain diseases
If you are 65 or older, you may be eligible for premium-free coverage if:
You have paid Medicare taxes for at least 10 years
You are receiving retirement benefits
You are eligible to receive Social Security or Railroad benefits
You have Medicare-coverage
If you are unsure if you are eligible for Medicare, you can use the Medicare eligibility tool.
What is Medicaid?
Medicaid is not an insurance program like Medicare. Instead, it is a federal and state-funded assistance program that provides health coverage to the following low-income groups:
People with Medicaid typically don't pay for any of the costs associated with their medical expenses. However, a small co-payment is sometimes required.
Medicaid benefits change from state to state but generally covers the following eye care services:
Hospitalization
Laboratory services and x-rays
Clinic treatment
Prescription drug coverage
Optometrist services
Eyeglasses
How are Medicare and Medicaid Different?
Medicare and Medicaid do have some similarities, but they are entirely different programs. They cover different services for different groups of people. Some of the significant differences between the two programs are:
Eligibility for Medicaid is income-based, and Medicare is not.
Medicaid is a public assistance program paid for by taxes, while Medicare is considered an entitlement.
Medicare is the same in every state, while Medicaid programs differ from state to state.
In certain situations, people can be eligible for both Medicare and Medicaid.
Does Medicare Cover Eye Exams?
Some patients are surprised to learn that Medicare covers the majority of an eye exam. Medicare pays for the medical evaluation of the eye including:
Annual glaucoma tests for people who are at a high risk of developing glaucoma
Yearly eye exams for people with diabetes for diabetic retinopathy
Cataract surgery
Postsurgical eyeglasses or contact lenses from a Medicare-approved supplier
Specific screenings and tests for age-related macular degeneration (AMD)
Eye discomfort, dry eye and blurry vision
The only aspect of an eye exam that is not covered by Medicare is refraction tests. Refraction tests are the tests your optometrist performs to determine your eyeglass prescription. Overall, refraction tests are just a small part of what is covered during an eye exam and the bulk of your expenses are still covered by Medicare.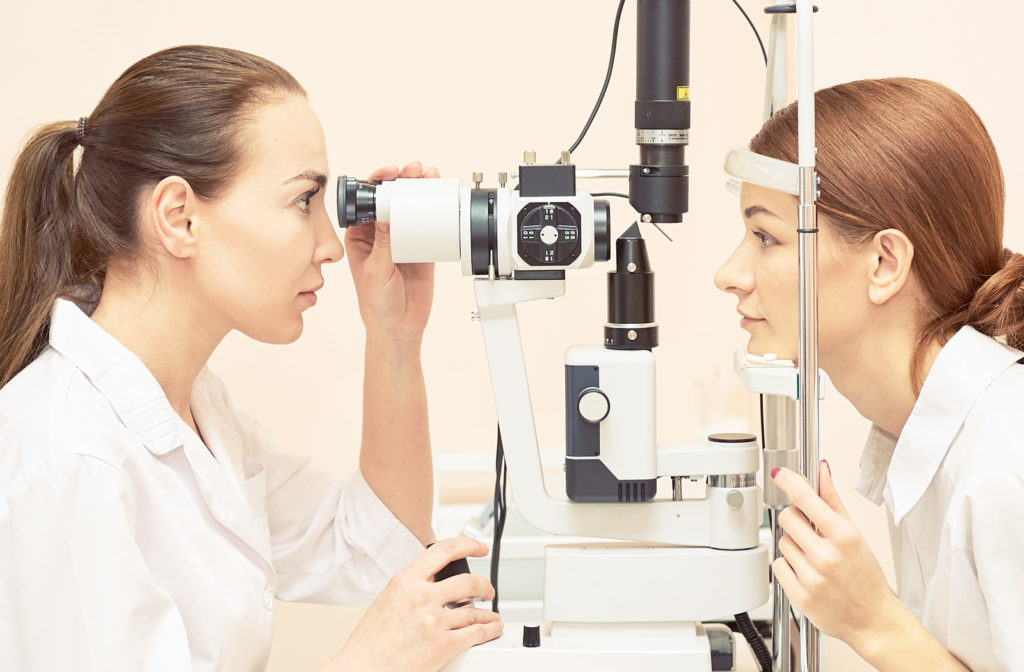 Does Medicaid Cover Eye Exams?
Medicaid does cover eye exams in certain situations depending on your age, the type of coverage you have, and the state you live in.
For eligible children under 21, Medicaid covers:
For eligible adults over age 21, Medicaid can cover the following services depending on the state you live in:
Eye exams
Eyeglasses and contact lenses
To find out specific coverage information depending on the state you live in, contact a Medicaid department.
How to Enroll
Applying for Medicaid
If you are eligible for Medicaid, there are two different ways you can apply.
Applying for Medicare
There are four steps involved in getting access to medicare. These steps include:
Learn if you're eligible
Sign up
Review your coverage options
Choose a plan
Visit Get started with Medicare to start these steps.
Additional Resources
To find out more about Medicare and Medicaid, you can visit the following websites:
Additionally, if you have any questions about coverage & eye exams, contact us at The Eye Gallery today!