If you wear glasses, you know how much you rely on them to get you through the day. Whether you're nearsighted or farsighted or need them for reading, they are a necessity for everyday life.
But you're looking for a change—you want to stop depending on frames and switch to contact lenses.
You've booked an exam and are ready to go on your contact lens journey, but first, you want to know what to expect and read some tips to get you started.
Let's explore the process of switching from glasses to contact lenses and 6 tips to know when making the switch.
Contact Lenses vs. Glasses
The difference between contact lenses and glasses mostly comes down to preference and eye health. However, there are some pros and cons to each choice.
Glasses Pros & Cons
Glasses are an overall safe bet and allow you to correct your vision with a low-maintenance approach. Some pros of glasses:
They offer a quick, easy, and affordable way to improve vision.
If you're squeamish about touching your eyes, you won't have to with glasses.
They don't require as much attention and cleaning as contact lenses.
They can help avoid eye strain when staring at screens for long periods.
Glasses offer a convenient solution to achieving your ideal vision goals, but they have limitations. Some cons of glasses:
They can limit your peripheral vision.
They can be damaged and cracked easily.
The lenses can fog up when it's cold.
Designer frames can get expensive.
Contact Lenses Pros & Cons
Contact lenses have come a long way and are a legitimate alternative to lugging around your glasses. They are a popular option and allow for a very confident and comfortable look! Some pros of contact lenses:
Contact lenses allow you to correct and improve your vision without affecting your appearance.
Contact lenses are an excellent choice for sports and outdoor activities.
You won't have to worry about your lenses fogging up or becoming dirty when it's cold out.
They can improve your overall confidence and self-image.
Some of the cons of contact lenses are:
You may experience some discomfort if you have dry or sensitive eyes.
You must avoid falling asleep with your contact lenses on as they may cause infection.
Contact lenses require more frequent check-ups and prescription renewals.
Certain contact lenses can be more expensive.
Now that we know some of the pros and cons of each choice, Let's look at the different types of contact lenses to help inform your decision.
Types of Contact Lenses
When considering the switch to contact lenses–it's important to know about the different types of lenses out there.
Scleral Contact Lenses
Scleral contacts are large-diameter gas-permeable contact lenses designed to cover the entire corneal surface and rest of the sclera.
Some things to note about scleral contacts:
Scleral contacts are noticeably larger than standard gas permeable contacts.
The smallest scleral contacts are about 14.5 mm in diameter and the largest can be up to 24mm.
In comparison, regular gas permeable contact lenses are 9.0 to 9.5 mm in diameter.
Smaller scleral and mini-scleral contacts can be easier to apply and less costly.
Scleral contacts are a great option for people who deal with irregular cornea issues and dry eyes.
Disposable Contact Lenses
Many disposable contacts are soft contact lenses which you can throw away after using for a short time. This type of lens is a convenient option for people who don't want to clean their contacts daily.
Disposable contacts are a good option when you want to keep your glasses and switch between the two.
Disposable contacts are also more fragile and can rip or tear more easily than hard or gas-permeable lenses.
Bifocal Contact Lenses
Bifocal lenses are used to correct-age related concerns with your vision.
Some of these concerns include:
Astigmatism
Myopia (nearsightedness)
Hyperopia (farsightedness)
Bifocal contacts allow you to focus on objects both close to your eyes and far away. They correct both nearsightedness and farsightedness simultaneously.
Bifocal contact lenses work to integrate your prescriptions.
With the types of contact lenses explored and a clear idea of what you can expect–let's take a look at some tips for making the switch.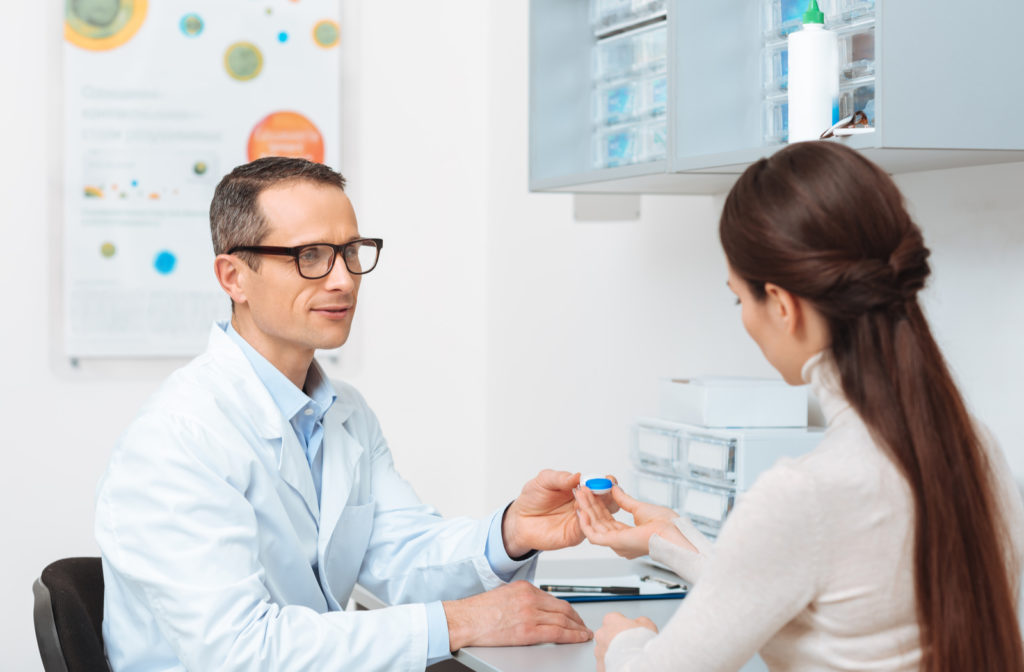 6 Tips When Making the Switch
Find the Right Fit
Finding the right contact lenses for you is a necessary process. You can't rush it—your eyes are too valuable for that! If you have hard-to-fit eyes and struggle with finding a good fit with your contact lenses, don't worry, that's something your optometrist can cover.
Whether you have keratoconus, astigmatism, or dry eyes, your optometrist will help you find the right fit.
Allow Yourself Time to Adjust
Adjusting to your new contact lenses will take time, primarily if you're used to your glasses. Contacts rest directly on the eyes as opposed to your glasses.
Maintain Frequent Check-Ups
Your contact lenses require maintenance, and you'll want to keep up with frequent check-ups to ensure your prescription is updated. Your vision can be ever-changing as you age, so having the correct prescription is key.
Luckily, if you're coming from glasses, you're familiar with the prescription lifestyle.
Cleaning & Storage
There are many ways to clean your lenses. A multi-purpose solution is usually the way to clean, rinse, disinfect, and store your lenses. It's important to note that the cleaning method can vary depending on the specific instructions that your optometrist gives you.
Cleaning and storage are crucial to maintaining the integrity of your contact lenses and avoiding any possible eye infections.
Discomfort With Your Lenses
If you start feeling discomfort with your contact lenses, there may be residual dirt or dust that you didn't clean properly. If this is the case, cleaning and rinsing your contact lenses using the prescribed method is the best course of action.
If the discomfort persists, consult your optometrist.
Keep Your Glasses!
Once you switch to contact lenses, your first instinct may be to discard your glasses completely.
Discarding your glasses is something you should avoid.
You never know when you may have issues with your contacts lenses, whether they get dirty or damaged in some way. Having the security of your glasses to deal with any potential problems can alleviate some serious stress and anxiety.
Life on the Other Side
The desire to switch over to contact lenses from glasses is understandable, whether for confidence issues, lifestyle convenience, or to avoid carrying your glasses around all the time.
Book an appointment with your optometrist today to learn more about the process and find the right contact lenses for you.